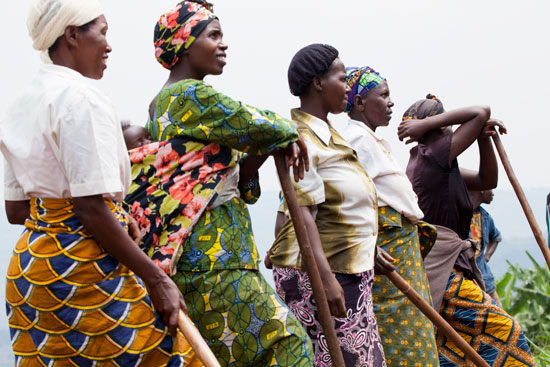 Director/Producer: Laura Waters Hinson
Executive Producers: Michael Fairbanks, John and Ed Priddy
Produced in Association with: The Moving Picture Institute
Producer: Andrea McDaniel
Cinematography: Kasey Kirby
Editor: Ryan Patch
Composer: Andy Zipf
Art Director: Austin Blasingame
Sound Recordist: Barry Neely
Associate Producers: Mary Beth Minnis, Tommy Hinson, Ryan Patch, Elizabeth Hooper
Additional Photography: Tommy Hinson
Mothers who mean business.
MAMA RWANDA is a modern tale of working mothers told through the eyes of the unlikeliest women – those who lived through genocide. Drocella, a village wife, and Christine, a city widow, have traded subsistence living for a life of business innovation, sparking enlightenment and controversy among their communities.  Set against the backdrop of national reconciliation, Drocella and Christine represent a new generation of women helping to turn post-genocide Rwanda into one of the top ten fastest growing economies in the world. Interspersed by commentary from Rwandan experts in women's entrepreneurship, the film highlights the roles of education and access to capital in empowering women to overcome poverty through entrepreneurship. A universal, globally relevant tale, MAMA RWANDA is a deeply cinematic portrait of two mothers on a journey to build peace through prosperity creation.
Mama Rwanda is releasing in major cities in the Fall of 2016, in partnership with the Akilah Institute for Women, Rwanda's only all-women's college providing degrees in entrepreneurship, information systems, and hospitality management. Akilah graduates go on to earn 12 times the national median income in Rwanda, creating lasting economic growth for their families and communities.
Produced by Image Bearer Pictures – learn more about our other films at www.ImageBearerPictures.com
Mama Rwanda was funded by the SEVEN Fund, the National Geographic All Roads Film Project, the Moving Picture Institute and by private donors.
Running time: 30 minutes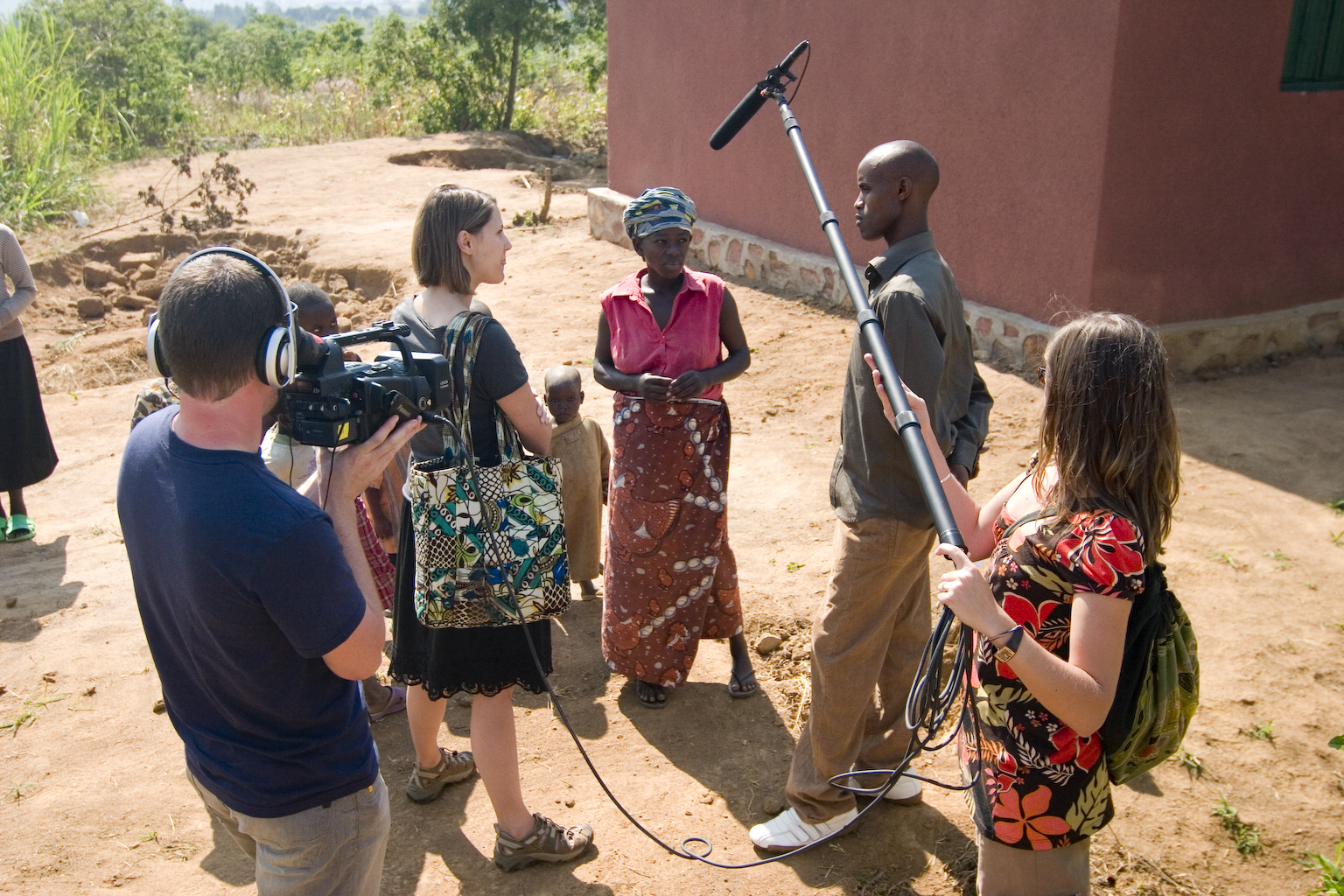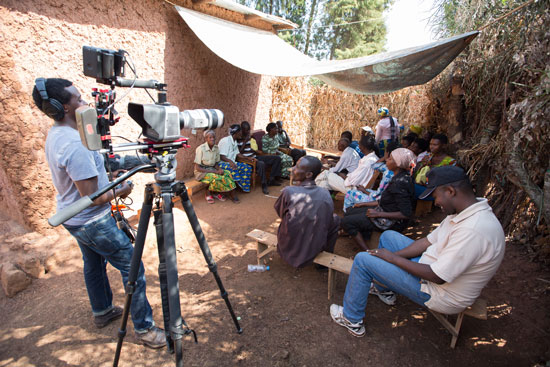 Laura Waters Hinson
Director/Producer
Laura Waters Hinson is the founder of Image Bearer Pictures, an award-winning documentary production company in Washington, DC.  Her film, As We Forgive, about Rwanda's reconciliation movement, won the 2008 student Academy Award for best documentary and was broadcast on PBS. Laura co-founded the As We Forgive Rwanda Initiative, a Rwandan-led organization that harnesses the power of film to promote healing after genocide, and has reached nearly 100,000 Rwandans. She just completed Many Beautiful Things, a film about artist Lilias Trotter which premiered in 2015 in England at the Manchester International Film Festival and in the US at the Heartland Film Festival.  Her third film, Dog Days, will have its broadcast premiere on PBS World's America Reframed documentary series in 2016. Mama Rwanda is Laura's fourth film. She received a MFA in filmmaking from American University, a BA in communication and political science from Furman University, and has worked in the past as a lecturer at the Catholic University of America, in the development department at the Discovery Health Channel and as a research assistant for MSNBC host Chris Matthews.
Michael Fairbanks
Executive Producer
Michael Fairbanks co-founded the SEVEN Fund, a philanthropic foundation based in Cambridge, Massachusetts run by entrepreneurs, whose strategy is to produce films, books and original research to markedly increase the rate of diffusion of enterprise solutions to global poverty.  He is the founder and Chairman Emeritus of the OTF Group, a strategy-consulting firm based in Boston, and the first venture-backed U.S. firm to focus on developing nations. He was a U.S. Peace Corps teacher in Kenya and helped launch Akagera Pharmaceuticals, which will focus on solutions to infectious disease.  He co–authored Harvard Business School's landmark book on business strategy in emerging markets, Plowing the Sea: Nurturing the Hidden Sources of Advantage in Developing Nations. His most recent book, which he edited, is entitled In the River They Swim: Essays from Around the World on Enterprise Solutions to Poverty. He has authored numerous popular articles in the Christian Science Monitor, Huffington Post and Washington Post. He has over 500,000 subscribers to his writing and spent the 2011-12 academic year as a Fellow at the Weatherhead Center for International Affairs at Harvard University.  He has been a Senior Advisor since 2001 to President Paul Kagame of Rwanda on private sector development and export competitiveness.
John Priddy
Executive Producer
John Priddy is an Emmy-nominated producer of such documentaries as To Die in Jerusalem, After the Storm, 51 Birch Street, As We Forgive and 39 Pounds of Love.  Winner of a Peabody award, his numerous documentaries have been broadcast on HBO, Showtime, MTV, and PBS.  John is the Chairman and Co-founder of Full Circle Exchange, an innovative social enterprise dedicated to empowering women by focusing on poverty reduction through job creation, improved incomes and access to global markets.  A successful entrepreneur, John is founder of The Priddy Group, the Windrider Institute, and Priddy Brothers Films.
Andrea McDaniel Smith
Producer
Andrea served at the U.S. Department of State as Senior Adviser for African Affairs to the Under Secretary for Public Diplomacy and Public Affairs.  In addition she served as Director of Private Sector Outreach for this office, leading new initiatives with senior U.S. business and government leaders to promote U.S. public diplomacy around the world.  Following her service at the U.S. State Department, Andrea lived abroad in Kigali, Rwanda and co-founded a non-profit organization focused on reconciliation and community-based development.  In addition to co-producing Mama Rwanda, Andrea directs the Washington, DC office for CarterBaldwin, Inc., one of the top 40 executive search firms in the U.S. where she serves social sector clients including nonprofit organizations, universities, foundations, and social enterprises.
Ryan Patch
Editor and Associate Producer
Ryan Patch is a writer, director, and producer who works on documentary, narrative, and commercial films. Ryan cut his teeth telling campfire stories in the mountains, but moved to New York City to attend New York University's Tisch School of the Arts, where he focused on producing and directing. He has recently graduated with an MA in Screenwriting from Royal Holloway, University of London. Ryan has directed narrative shorts that have played at film festivals around the world, produced dozens of shorts and a feature film in New York City, and edited an independent documentary that has sold over 50,000 units. He is also the owner of Storytellers Ink, a small production company.
ABOUT WOMEN ENTREPRENEURS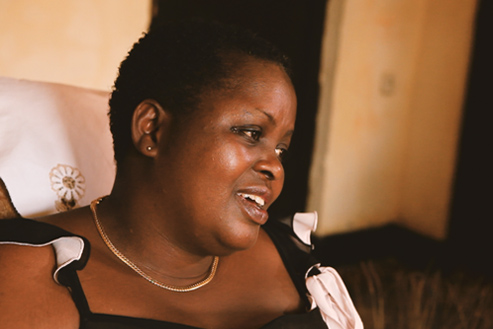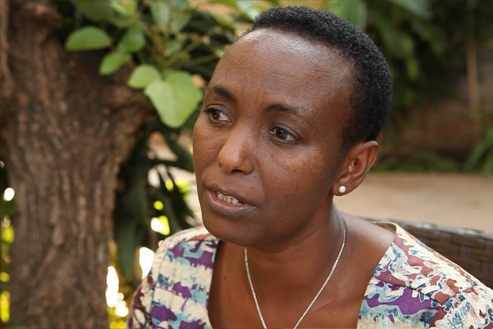 The Genocide and Rwandan Women
After the massacres stopped in 1994, Rwanda lay in ruins. Hundreds of thousands of bodies were piled on roadsides. Churches and schools were destroyed; offices and businesses looted. Electricity was erratic, running water non-existent, and governance minimal. Above all, the nation was traumatized by the heinous crimes that had decimated the population. Nearly a million of Rwanda's eight million people had been killed in 100 days, during the culmination of decades of ethnic violence between Hutus and Tutsis.
Because most of those killed were men and because many male perpetrators fled to neighboring nations, 70 percent of Rwanda's post-genocide population was female. Faced with ensuring their families' very survival, women stepped up. Mothers took in orphaned children and organized support groups for widows. Women moved from cleaning buildings to reconstructing them. They farmed and started businesses. Throughout the country, they created stability in the aftermath of unspeakable violence.
Meet the Women Entrepreneurs of MAMA RWANDA
Drocella
Drocella Mukantaganda is a mother of five in her late-thirties who lives in a rural suburb of Rwanda's capitol. Drocella's first husband was a genocide perpetrator who went to prison for seven years for murdering several of their neighbors.  During his imprisonment, Drocella divorced her husband and remarried, remarkably, a man who is a genocide survivor.  However, she is one of three wives and rarely sees her new husband, an arrangement that has effectively rendered her a single mother.
Between the hours she spends in subsistence agriculture and cooking daily meals over an open fire for her children, she has also founded an association of reconciled genocide survivors and ex-perpetrators in a bold plan to build an agricultural cooperative.  A strong proponent of reconciliation after genocide, one of Drocella's core operating beliefs is that people cannot grow economically unless broken social relationships are first healed.
In the film, Drocella serves as a symbol of the millions of deeply impoverished women across East Africa.  Her story is like many others: she balances running a household by herself while also struggling to provide even the most basic necessities for her family.  Drocella's uniqueness, however, lies in her unflinching dedication to leading a community business despite her rural culture's lingering expectation that women should only work in the home.
Christine
Christine Murebwayire is an up-and-coming urban winemaker, and genocide survivor, in her early forties who is struggling to balance her newfound success as one of Rwanda's rising entrepreneurs with the demands of being a widow with five children.  While her meteoric rise out of poverty has also revolutionized dozens of lives in her community through job creation, Christine is overwhelmed by the sole responsibility of her family.  While strong and vivacious on the outside, her heart continually aches for her husband who died several years ago.
Christine began her banana wine-making company, called Co-Proviba, after her husband's death as a way to get out of poverty.  However, most of her family members disapprove of her making and selling alcohol. Christine endures the criticisms by staying focused on what is in front of her: the running of her headquarters, her factory, her employees and her household. She fiercely loves and serves both her children and her employees, two priorities that often require her to be in two places at the same time.
Christine serves as a symbol of the historic women's empowerment movement that occurred after Rwanda's 1994 genocide in which nearly 1 million people were killed, leaving the majority female population to take the lead in the country's reconstruction.  She has achieved what Drocella longs for – financial stability and a growing business. But her work comes at a cost to her children, who often spend days and weeks without her.